Partnership with Vallourec that Truly Enhances Local Content
GENESIS has entered into a joint venture ("VMOG GHANA LIMITED") with Vallourec to supply casing and tubing for the completion of oil and gas wells. GENESIS holds a significant stake in the joint venture, with majority ownership to be transferred to the company by 2016.
Local Identity, Local Presence
The joint venture has a clear Ghanaian identity, with Ghanaian representation at all levels of the organisation including on the company's Board of Directors and in senior management. The managing Director is a highly experienced Ghanaian National resident in Ghana. Over 90% of the 63 employee positions across VMOG Ghana and its sister companies are held by Ghanaian nationals.
40,000m2 OCTG Stockyard
The OCTG Stockyard is situated at the Oilfield Logistics Base owned by local partner, Genesis. The 40,000m2 API specification pipeyard, which will be operational in Q2, 2014, includes enclosed inspection hall, dedicated handling equipment and warehousing, storage and handling of consignment and customer-owned stock as well as rig ready and rig return inspection services.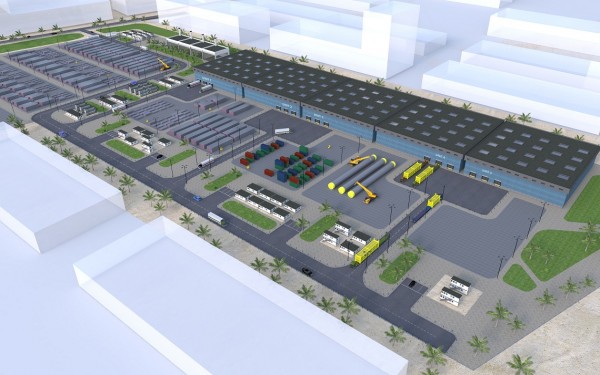 Value Added Services Delivered In-Country
Threading and pipe repair services will be carried out at the API Certified Machine Shop owned by local VAM licensee, AOS Orwell Ghana Limited. The machine shop has ISO 9001:2008 quality certification is licensed to machine all API Connections as well as VAM premium connections.  Machine capabilities include 2 CNC lathes, 1 CNC milling machine, AMC torque machine and machines for radial drilling, power sawing, swaging and surface treatment.
This slideshow requires JavaScript.
Building Local Capacity
Working with the JTTC at the Takoradi Polytechnic, GENESIS and VALLOUREC offer the following as part of a comprehensive capacity building plan that is focused on critical skills development within Takoradi:

Tubular Essentials Training: course to equip students of the polytechnic for field support and tubular supply chain management roles. Classroom sessions will be held at at JTTC during each academic year from 2014. Field Work will be held at VMOG Ghana's operating facilities. A 3-day pilot combining classroom sessions with a visit VMOG Ghana's operating facilities was held in October 2013.
Apprenticeships: 3-month apprenticeships to be offered during each academic year structured as two 6-week placements, first with VMOG Ghana, followed by a second placement at a Vallourec threading plant

Scholarships: to be provided each year to students from the polytechnic and the JTTC
This slideshow requires JavaScript.