The Takoradi Oilfield Logistics Base has been developed on a 43-acre (174,000m2) land parcel with an optimal layout that combines API (American Petroleum Institute) specification pipe yards, modern warehousing, inspection sheds, office space and recreational areas to create suitable operating bases for upstream operators and oilfield services companies.

The facility is ideally located 15km west of central Takoradi, in close proximity to Schlumberger's planned USD 50million West Africa operations hub and with good access to the commercial port of Takoradi, the local airfield and the Atuabo Freeport Complex – a dedicated oil and gas services terminal that is currently under construction.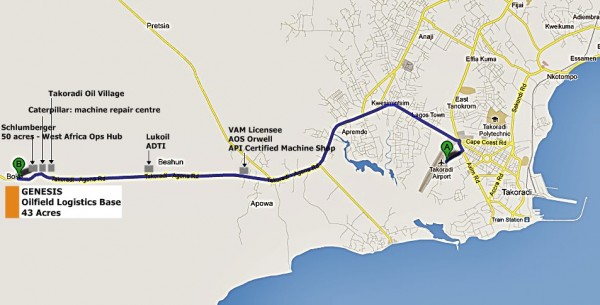 Facilities
A double-width concrete roadway provides access to the following facilities at the Oilfield Logistics Base:
OCTG Stockyard, built to meet API RP 5C1 recommendations, and featuring:
20,000m2 pipe yard, reinforced and asphalted to withstand the heavy loads associated with outdoor storage, loading and unloading operations
Enclosed inspection hall, equipped with inspection benches and pipe racks, pressure washers, a sling retest area and an insulated decant system
Warehousing – 12,500m2, split into smaller units and equipped with modular office space, palletized storage areas, accessory racks and dedicated storage areas for materials that require specialized handling
Office Space – partially furnished portable offices in modular units. Each unit has 48m2 of floor space and is equipped with light fixtures, power points, air conditioning, internet and telephone access. Each unit has an open plan layout with partitioning for a manager's office, a conference room and a kitchen.
Laydown and Assembly Areas – over 15,000m2, reinforced and concreted to withstand extreme loads during fabrication and assembly operations
Security – security posts will be manned 24 hours a day, along with real-time CCTV surveillance.